---
Valles Caldera National Preserve
Jemez Springs, NM 87025
(866) 382-5537 or (505) 661-3333
The fishing experience on the Valles Caldera National Preserve is just one component of the recreational opportunities we offer. Our program was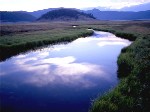 designed in collaboration with anglers to provide a quality experience on the preserves fishing streams. Each angler is assigned 1 - 1.5 miles of stream to fish alone or with up to three guests for the day. This quality approach offers anglers a sense of solitude; a unique experience few anglers experience on public lands in New Mexico today. While the fishing is challenging, we strive to provide a satisfying and memorable experience that also includes wildlife viewing and an opportunity to enjoy the scenery of the Preserve..
---
Fenton Lake State Park
Fenton Lake, NM 87025
(505) 829-3630
Fenton Lake State Park is a popular year-round retreat surrounded by tall ponderosa pines. The State Park sits at an elevation of 7,900 feet and covers 700 acres of land with a small 28 acre lake that offers year-round fishing.

Directions: Fenton Lake State Park is 33 miles northwest of San Ysidro via NM highways 4 and 126. 8 miles northwest of La Cueva on Hwy126 then Forest Service Rd#314 one mile. .
---
Bandelier National Monument
Los Alamos, NM 87544
505 672-3861 ext. 517
Bandelier has a long human history and links to the modern Pueblos. Traditions which began in the distant past are still practiced today. At Bandelier, evidence of the Ancestral Pueblo people can be found in the dwellings, artifacts, and continuing culture of the modern pueblos. Early Spanish settlers, the Civilian Conservation Corp (CCC), and the National Park Service also left their mark on the local landscape.
---